About "digi-patent/s"
"digi-patent/s" Patent Search and Management System is a mature, professional system for searching patent information. It was developed in 1987 by Hitachi and Hitachi Beijing Tech Information System Co. Ltd., has been 20 years of history. digi-patent/s has the Market share of about 27 percent, is ranked No.1 in Japan for many years.。
"digi-patent/s" integrates patent information of China, the United States, Europe, Japan, Germany, and other 14 countries and the English abstract of Japan Patent, as well as DOCDB information of 80 countries and regions. With online search mode, so you can search invention patents, utility models, design patents and patent legal status anytime, anywhere. Through thoughtful design instrument, you can handle and manage a large number of patent information.
Product Concept
"digi-patent/s" enhance service capabilities from the search data, analysis to output to meet the diverse needs of IP search operations.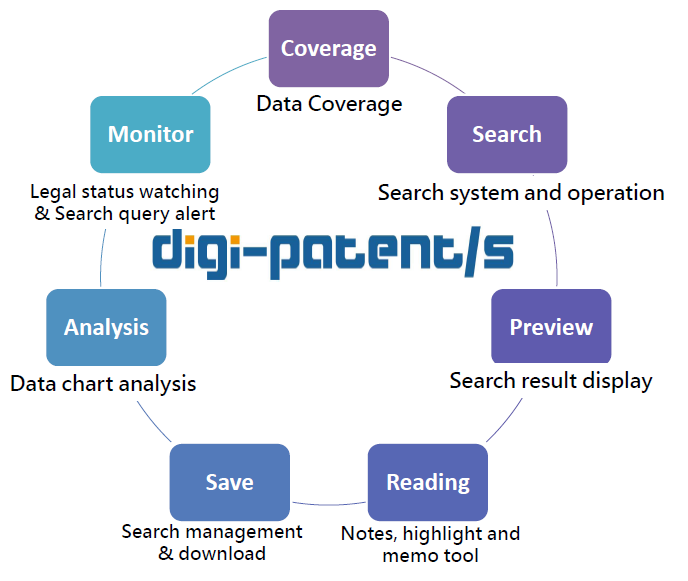 Rich Data
"digi-patent/s"integrates patent information of 14 countries, regions or organizations, China, the United States, Europe, Japan, Germany, France, Britain,the Netherlands, South Korea, Brazil, Russia, India, Taiwan and WIPO for example。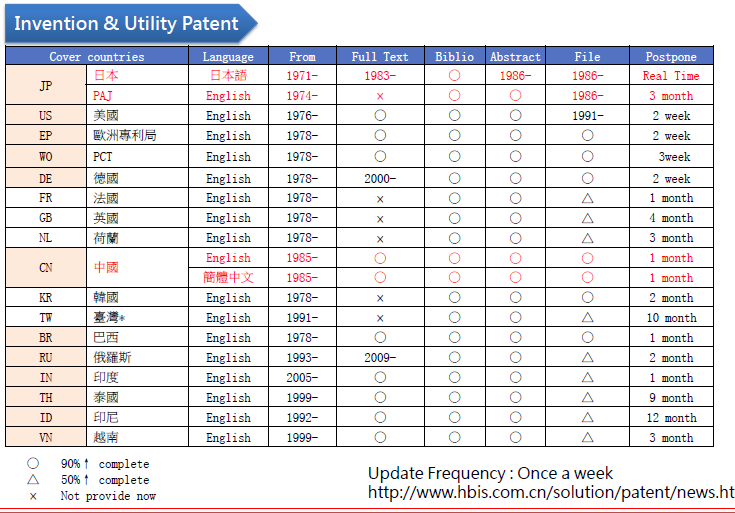 Up-to-date Data
The official website of Hitachi Beijing Tech Information System (http://www.hbis.com.cn/solution/patent/news.html) monthly updates the latest patent information, like Japan, the United States, EP / WIPO, PCT and Japan design patent.。
In "digi-patent/s", You can acquires the latest Japanese patent information. Synchronized with Japan Patent Office, grasp the latest information, and seize the opportunity at the first time.
How "digi-patent/s" let you getting start quickly?
1. Human-Based Search
Set a variety of search functions in one. Whether it is a professional search experts or beginners can get started at the first trial。
(1)Patent Number Search
Support the input of a large of patent numbers, up to 3000 to 4000 sets, and mixing the application no. and Issue no. is allowable. "digi-patent/s" has txtimport feature, eliminating the key-in operation of document no.
(2)Intelligent Search
Decide the period of sentences automatically based on the relevance and importance of keywords to search patents of high similarity, and you can manually edit the significant degree of keywords to further improve the accuracy.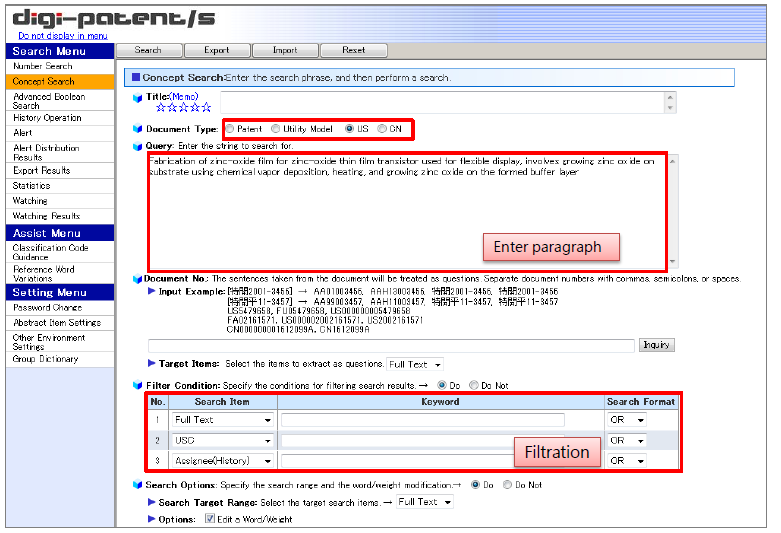 (3)Boolean Search
Boolean search contains the full text of the patent specification, patent classification, the applicant /inventor, date, number, prosecution information. The scope includes 8 ranges (more than 90 items). You can accurately find the data by editing logic search query.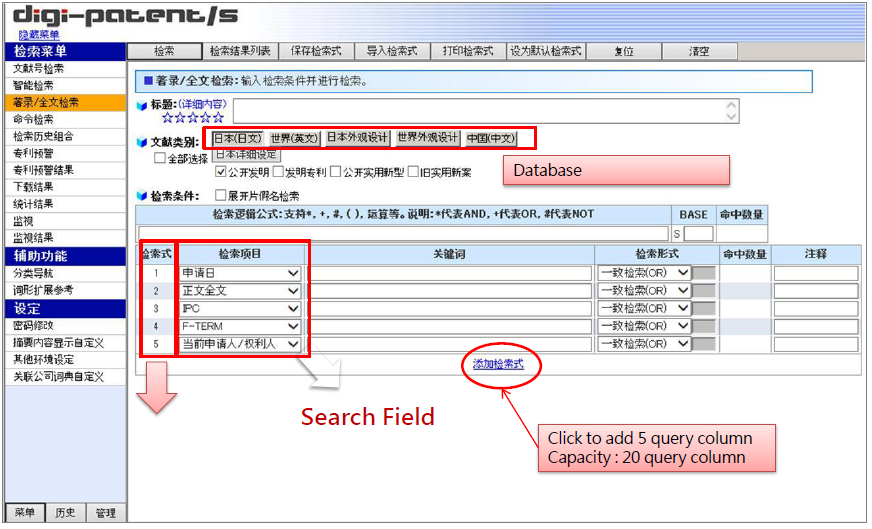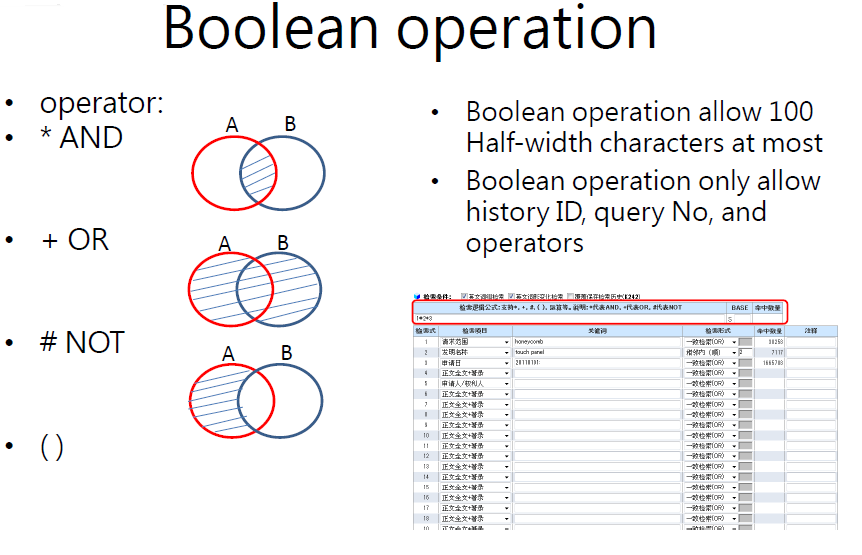 2. List of Search Results
Users can choose the explicit items of search results to sort, for example, legal status,patent classification, applicant and other items.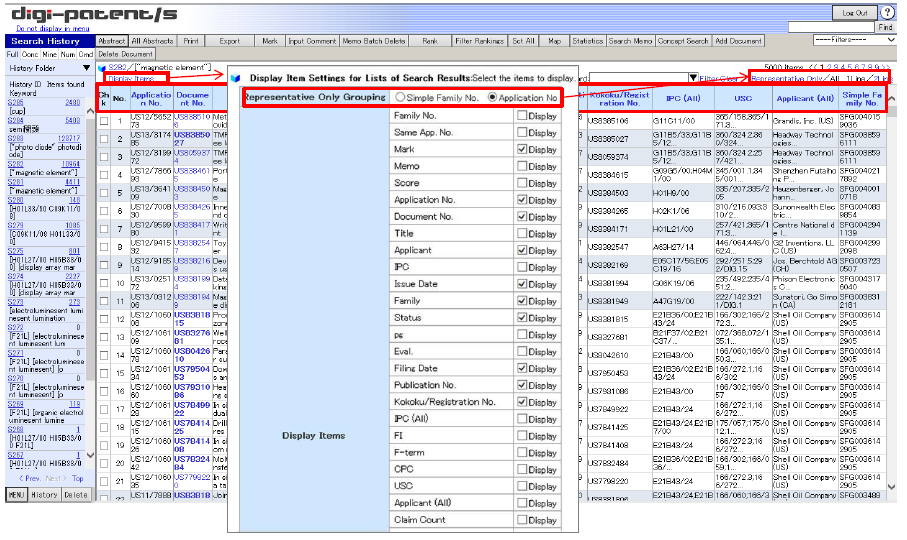 3. Management of History Folders
You can create a named folder to manage the search history for easily accessing at a later date.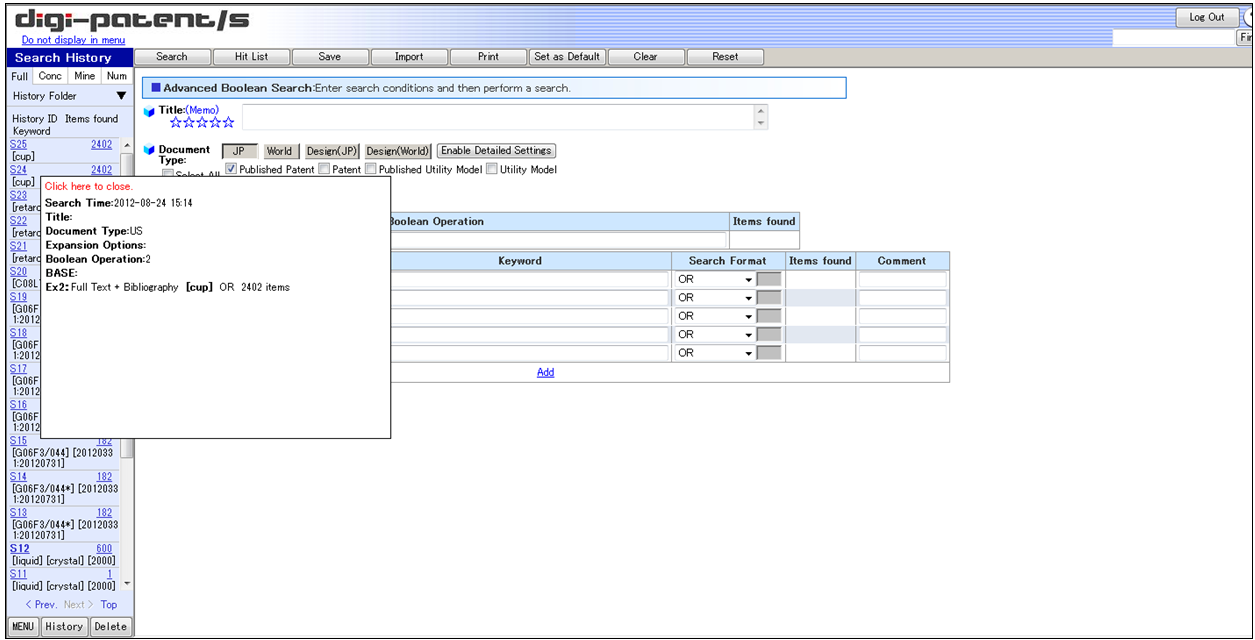 4.Personalized Download
Freely setting the download range, use the tag function to download directly concern patents, and there are three choices of document formates, such as PDF, XML and EXCEL. Excel can be assigned the download contents.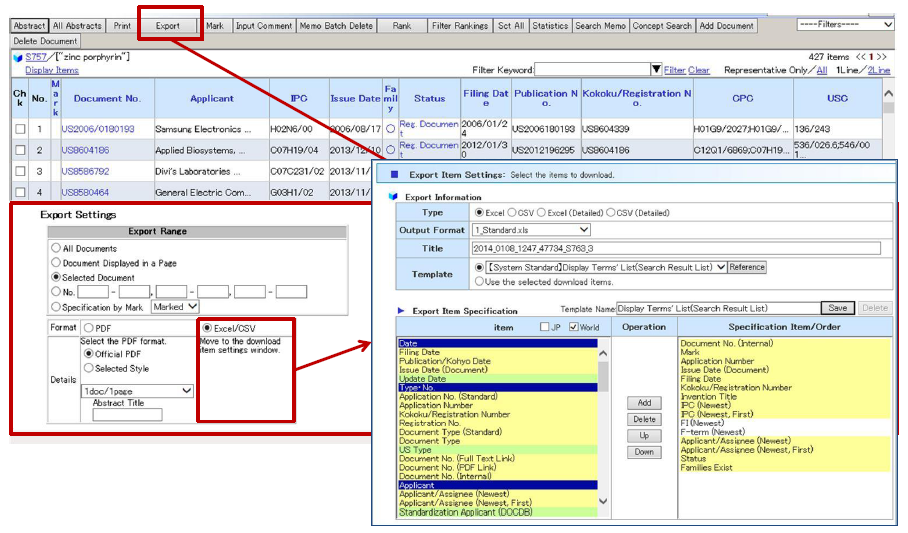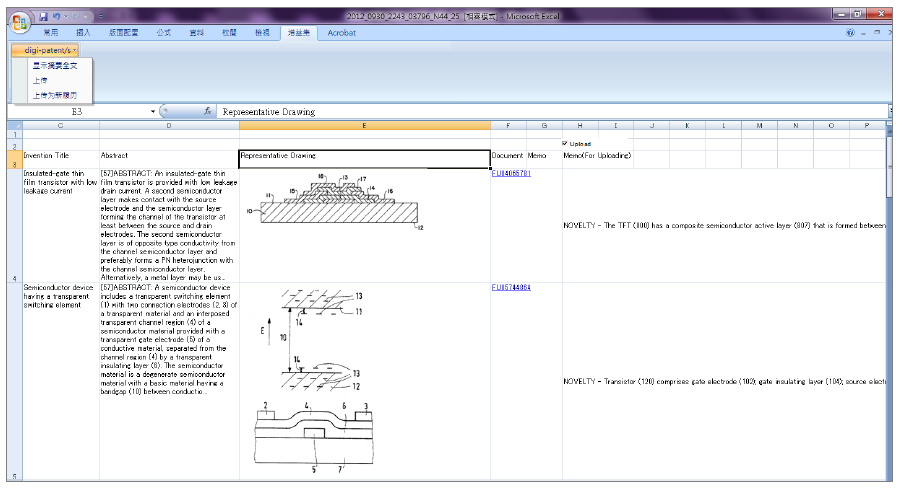 5. Four Kinds of Charts
The search results will be analyzed statistics according to the setting conditions, generate a variety of charts. On the chart with a link, click on the link to directly view the data.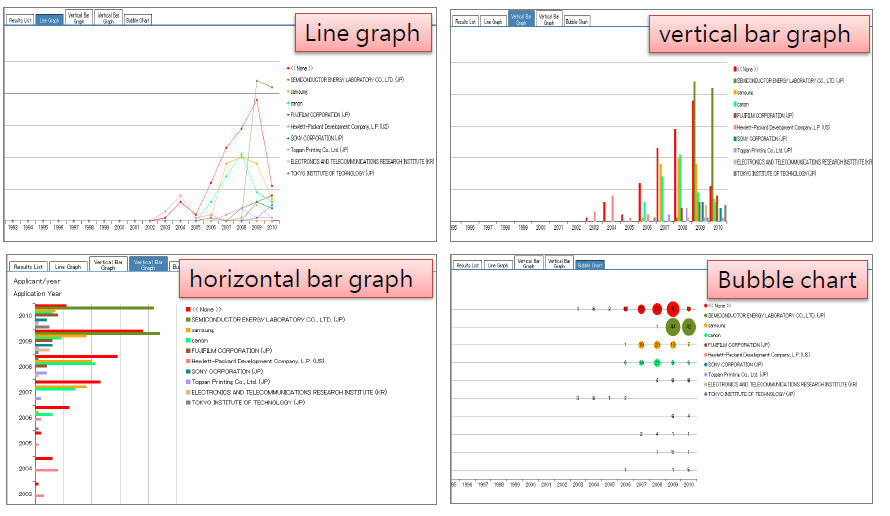 6. Bookmarks Function
The system provides four bookmarks to mark patents. You can screen patents any time in the future.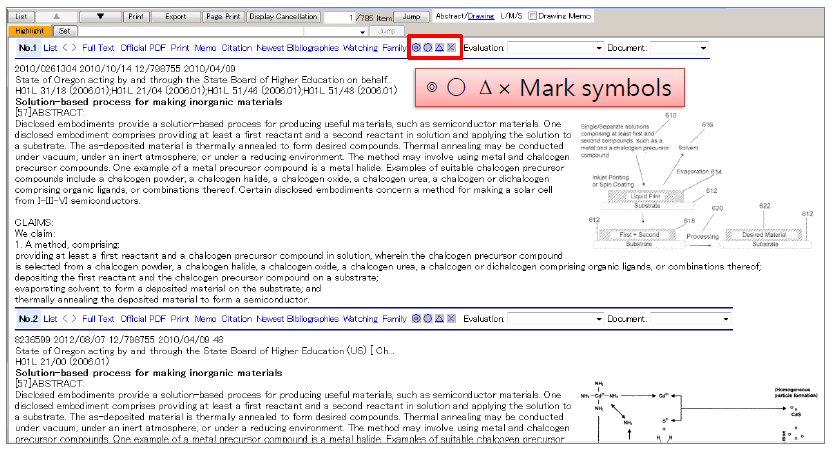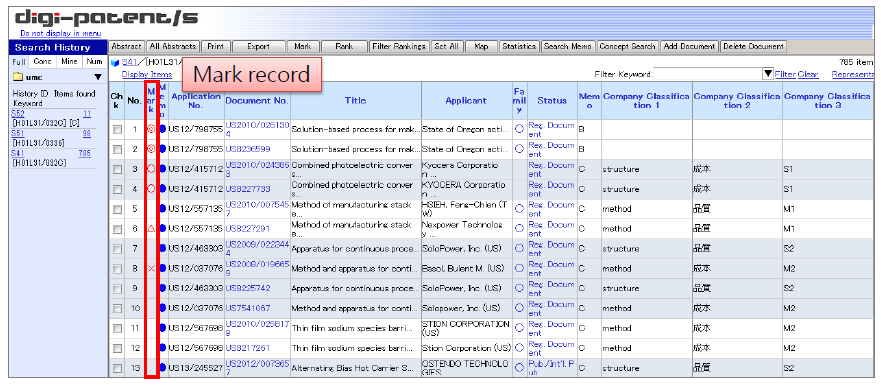 7. Notes Function
When users browse patent data, they can leave comments directly. This comment is perpetual existence in the personal account.