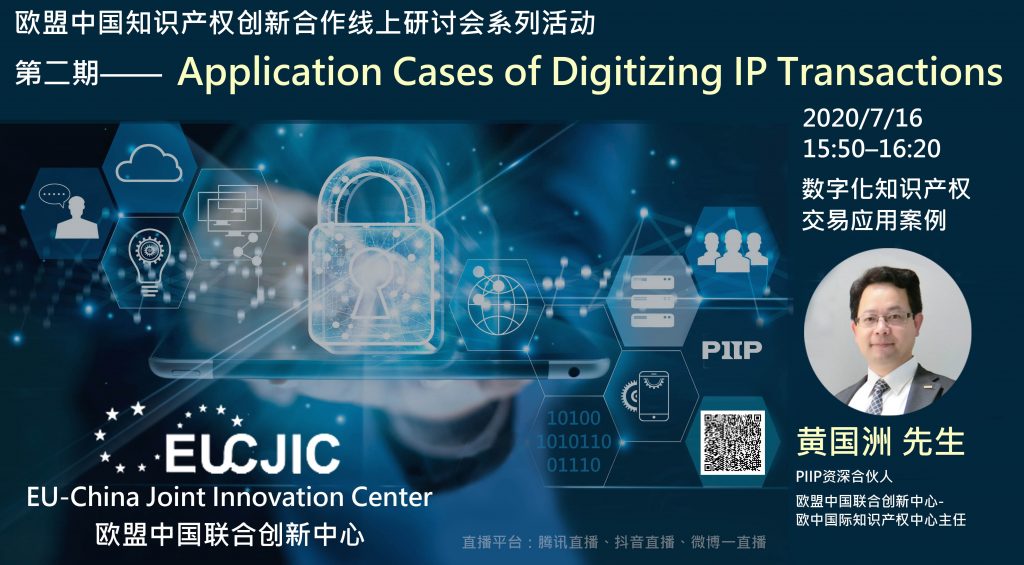 The Second Session of EU-China Intellectual Property Innovation Cooperation Webinars was hosted by EU-China Joint Innovation Center (EUCJIC), led by Mr. Joe Huang (PIIP COO) of the EU-China International IPR Center (ECIIPR), it was successfully concluded among the warm applause of all attending European and Chinese professional participants.
The keynote speakers and the guest speakers at this webinar were composed of representatives of the various sectors from Europe and China and it was conducted in Chinese and English. Most of the speakers made speeches with the combination of "digital economy and IP" as the main topic of their speeches. In particular, the COO of PIIP, Mr. Joe Huang presented the last speech about the topic "Patent Lease". In the course of his speech, enthusiastic audience members left messages for encouragement to show their recognition and gave PIIP great affirmation and honor.
After the webinar, according to the official statistics of the conference system, ZOOM, there were 120,000 viewers on the Chinese channel and 80,000 viewers on the English channel, a total of 200,000. It is understood that this number may have set the record for the highest number of participants in IP seminars in Asia. The event was definitely a success. I believe that if the next seminar evolves into an online and offline conference format, it is expected to break the record again. Stay tuned for more updates.
It is worth mentioning that the COO of PIIP, Mr. Joe Huang is currently in Taiwan. If friends, acquaintances are interested in further arrangements and future cooperation, please seize the opportunity. We sincerely welcome you to write or call to make an appointment now. Our staff will be more than willing to assist you and contact you promptly within one working day.
Contact Person: Project Division, Project Leader陳迺元James
Contact Number: +886-2-89313636 # 301