Founded in 2006, Portal-International IPR Group (PIIP) is a fast growing IP boutique law firm headquartered in Taipei, Taiwan with branch offices around Asia and North America, including Hsinchu, Shenzhen, Shanghai and Virginia. With our strong international presence, our more than 60 IP professionals have developed solid business relationships with IP law firms around the globe over the years, providing high-quality and diverse services to our clients worldwide. Our practice mainly focuses on IP management consultation, technology transfer, patents and trademarks acquisition, copyright management, and patent prosecution and litigation before the TIPO, SIPO and USPTO, as well as the EPO through our partner firms around Europe.
Lawyers of Portal are registered to practice before the Taiwan Intellectual Property Office (TIPO), State Intellectual Property Office (SIPO) of PR China and the United States Patent and Trademark Office (USPTO). Most of our lawyers and patent engineers have undergraduate degrees in one of the engineering disciplines, advanced degrees and prior work experience as engineers or scientists in high-tech industries. We combine the industrial, technical and legal knowledge to provide a high quality work-product and services to our clients. Our IP practice spans a broad spectrum of technical fields including electrical, electronics, telecommunication, satellite technology, computer, semiconductor device, semiconductor process, semiconductor process equipment, mechanical, package, software, chemical, pharmaceutical and biotechnology, and the like. In addition, we have external resources to help our clients meet their specific needs. We have referred highly renowned technical advisors and consultants to our clients for solving their technical problems.
We work closely with developers and managers to identify potentially patentable features of a product or service prior to its release and to develop a strategy for protecting patentable features of the product or service. We also counsel clients and train clients to more efficiently manage their IP portfolio and avoid infringement liability.
Our clients include public and private companies at various stages of growth from start-up to Fortune 500.
Portal-IPR is a professional and harmonious family. Our strengths and characteristics are as follows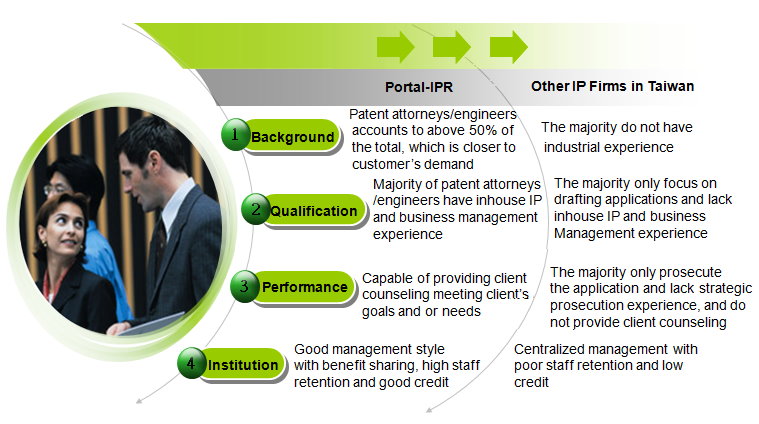 Portal-IPR has the main technical areas and customers are as follows: