Sponsored by Chung Yi Social Welfare Foundation, the charity fair" Build Love For Children "will be held at Taipei EXPO Foundation – flower sea plaza on Saturday morning 10a.m., October 24.
This year, PIIP Group also has the spirit of taking care of others. Under the leadership of Chief Executive Officer, Mr. Daniel Y.C. Lee, he sponsored and participated in adoption stalls and charity sales.
All of the proceeds from the charity sale and supplies will be donated to Chung Yi Child Welfare Institution to turn the action into children's growth fund.
We look forward to the enthusiastically participation of public on that day, and wish a complete success of this activity to use the fundraising to provides comprehensive resources for children.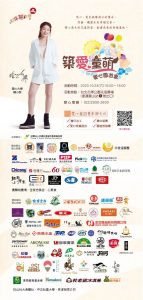 PIIP Group and Chung Yi Child Welfare Institution are located in Wenshan District of Taipei City as well. Chung Yi Child Welfare Institution provides a home selflessly for children to settle down. It's not only take good care of children's life, but also attaches great importance to childen' s education and physical and mental conditions.
Chung Yi Child Welfare Institution also makes detailed plans to help children find a suitable home. Return to normal family life and enjoy the happiness of a family reunion.